Wedding Wednesday ...
I have been thinking a lot about how to keep children entertained at weddings and while there are a few ideas out there there is nothing that really makes me want to burst with excitement. My philosophy is if it makes me want to squeal with joy then chances are the little ones will love it too. (Some reason this always seems to work well for me anyway).
I want the girls to feel like princess's and the boys to feel like knights in shining armour. I want smiles and happiness. Miserable children equals miserable parents and the negativity is contagious.
So what to do that is the question ! Personally, I think it is a good idea if there are enough boys and girls to keep them on separate tables. Therefore, you can create separate themes without encountering gender issues and arguments. This is where you can let your imagination run wild but just remember a few basic rules to avoid problems.
My suggestion is that activities during meal times are kept to a minimum so as not to distract the child from eating and sweets are not brought onto the table until dessert has been finished. Otherwise you could be dealing with hyperactive kids during the dinner which to me in not such a great thing !
However, saying that if you intend on having speeches during the start of dinner then you really can't expect a child under 12 to sit for longer than 10 minutes without losing the plot. So ensure that a little amusement is given to them just when speeches begin. Such as a colouring book and crayons, beads for making a fabulous bracelet or necklace or even a sticker book for the boys whatever you choose though make sure to keep anything messy to a minimum no one wants tacky hands everywhere !! By the time the main arrives this activity will no doubt have fazed out and they should be ready for more food.
The tables should be set up with activities to keep them entertained for at least an hour. After which it should either be their bedtime or if old enough after having been filled with sweets and sugary stuff the children will want to hit the dance floor. Don't hold back they need to get this sugar rush out of their system before they hit the sack !
If you know that the kids are going to be too much of a handful then maybe hiring a sitter or two (depending on how many children there are) to ensure that they remain safe and entertained may be a good idea; that way the adults can relax and enjoy themselves whilst they know their children are in good hands.
OUTDOOR ACTIVITIES
If you are thinking of outdoor activities for the little ones I can't think of anything better than a fairy light lit tent for the girls to dress up as fairies in and make flower crowns to adorn their pretty little heads and a tipi tent for the boys to play cowboys and indians or whatever takes their fancy !
These pictures have me screaming "I wish I was a kid again".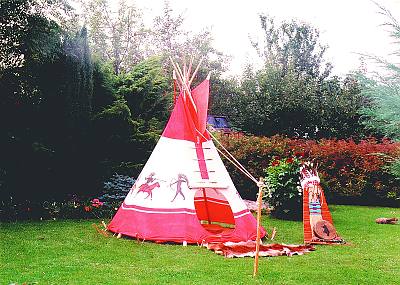 Aren't they just to die for ?! I'm sure the children would love this idea. It all looks so cosy and cute. Most of these can be made by hand and are c
heap and cheerful to make; just what I like!
A list of other suggestions would be outdoor jenga, french bowls or even a skittle alley. Another great one would be a bouncy castle to exhaust the littles ones lol they will surely be very easy to settle down after hours !
Inside you could have a movie room filled with cushions and covers to allow the children to chill out while watching a film or two. A photo booth with fun props not just for the adults but for the children too; I can guarantee that they will love this ! Face painting or even organising an activity that involves both the children and the adults will have the little ones running around in a crazed frenzy. The game that comes to mind is the one where you have to collect so many items in so many seconds. The team with the most wins. Children love this.
As you will see from searching on the internet there are a lot of activities out there but the ones that make me tick are ones with a flair of originality and difference. I will think hard over the next year about activities and I will all let you know what I come up with.
In the meantime my last advice to you is that if you are planning your own wedding and looking at children's entertainment don't get carried away and organise too many things for the kids to do
otherwise they might just feel overwhelmed and agitated and chances are their parents will start to feel the same way too.
IF YOU HAVE ANY IDEAS PLEASE LET ME KNOW !